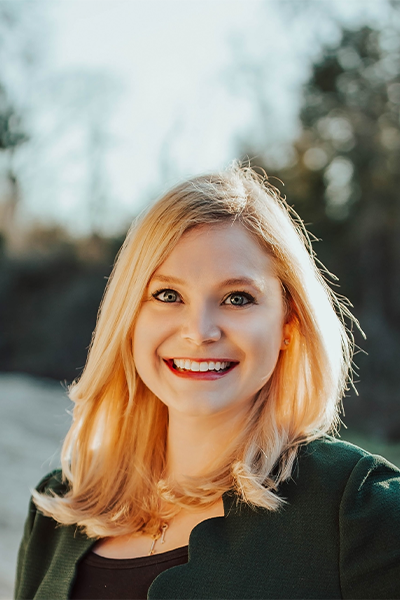 Jeanine Novosad Rispoli was inspired to be a family lawyer from an early age after learning of her adoption. Jeanine was adopted in San Antonio and raised in Houston and Sugar Land. She graduated from Baylor University with a B.A. from the University Scholars Program, received her J.D. from Baylor Law and was licensed in 2011. She practiced family law in Houston before returning to Waco in 2015. Jeanine's experience includes complex property disputes involving characterization, tracing, and valuation of businesses, real property, and other significant assets.
Jeanine has experience in custody and child support matters, including cases involving psychological evaluations and custody evaluations. Jeanine is also a trained family law mediator and offers mediation in McLennan County. Jeanine has been honored to serve on the boards of the State Bar of Texas and the Texas Young Lawyers Association for the past three years as the TYLA President-Elect, President, and currently as the Immediate Past President. Her passion for civility and adoption inspired several TYLA projects now available at TYLA.org.
Jeanine is a past president of McLennan County Young Lawyers Association, a graduate of LeadershipSBOT and LeadershipPlenty Waco, an American Bar Foundation Fellow, a Texas Bar Foundation Fellow, a member and mentor in the Judge Abner V. McCall Inn of Court, and frequently volunteers at Baylor Law School. Jeanine is a member of the Junior League of Waco, where she served as Secretary for two years, and enjoyed trainings on leadership, nonprofit board governance, strategic planning, and diversity and inclusion. Jeanine and her husband Stephen, an Assistant Dean at Baylor Law, enjoy time outdoors with their Labrador, Khaleesi.
Contact Jeanine Rispoli by clicking here.
BAR ADMISSIONS
State Bar of Texas, November 2011
EDUCATION
Baylor Law School

Baylor University

B.A., University Scholars; Honors Scholar with Distinction
STATE BAR AND ABA INVOLVEMENT
State Bar of Texas Board of Directors – TYLA President 2021-2022, TYLA President Elect 2020-2021
Texas Young Lawyers Association – President 2021-2022, President Elect 2020-2021, District 9 Director 2019-2021

Texas Bar Journal Board of Editors – 2020 to present

Texas Bar Foundation – TYLA Liaison 2021-2022, Member 2017 to present

State Bar of Texas Local Bar Services Committee – Member 2017 -2021

American Bar Association – TYLA Delegate 2020 to present, Member 2020 to present
American Bar Foundation – Member 2021 to present

LeadershipSBOT – State Bar of Texas 2016-2017 Class

College of the State Bar of Texas – Member 2014 to present

Family Law Section of the State Bar of Texas – Member 2011 to present
LOCAL PROFESSIONAL INVOLVEMENT
McLennan County Young Lawyers Association – Immediate Past President 2021-2022; President 2020-2021; President-Elect 2019-2020; Vice President 2018-2019; Secretary 2017-2018; Member 2015 to present

Judge Abner V. McCall American Inn of Court – Mentor 2017-present; Member 2016 to present

McLennan County Bar Association – Board Member 2020-2021; Nominations Committee Member 2019-2021; Member 2015 to present

Baylor Law School – Top Gun judge, witness; Mad Dog judge; Client Counseling judge
Family Law Section of the Houston Bar Association – Family Law Adoption Day Bear Drive Organizer 2014-2015; Member 2011 to 2016

Burta Rhodes Raborn Family Law Inns of Court – Awards Committee 2015; Member 2012 to 2015

Association of Women Attorneys Houston, Texas – 2014 to 2015

Fort Bend County Bar Association – 2014 to 2015

Houston Bar Association – Member 2011 to 2016
LOCAL COMMUNITY INVOLVEMENT
Leadership Plenty Waco Class of 2019-2020

Junior League of Waco: Nominating Committee 2020-2022; Board Secretary 2018-2020; Advisory Planning Vice-Chair 2017-2018; Public Relations Committee 2016-2017; Organizational Development Institute Fall 2017; Focus Group Moderator Provisional Class Project 2015-2016; Member 2015 to present
CLASSES, SEMINARS, PUBLICATIONS AND PROJECTS
TYLA Publications and Websites Coming Soon: Civility Hub, Civility in the Classroom, Celebrating Adoption Day, Nonprofit Toolkit, Legal Careers in Government Service, Federal Evidence Guide, and more at www.TYLA.org

TYLA Civility From the Bench, Moderator, November 2021 – Panelists: Justice Debra Lehrmann, Justice Jeffrey S. Boyd, Justice Jane Bland, and Judge Lora Livingston of the 261st District Court, Travis County

TYLA Civility Day Panel, Moderator, September 2021 – Panelists: Professor Liz Fraley, Heather Kanny, State Bar President Sylvia Borunda-Firth, TYLA Past President and Brownsville City Attorney Victor Flores

Texas Bar Journal TYLA President's Page – June 2021 to May 2022
Texas Bar Journal "Practicing Civility, TYLA President Jeanine Novosad Rispoli on treating people with respect" – June 2021

Baylor Pre-Law and Public Service Internship Program – Adjunct Professor Spring 2021 to present; Mentor Spring 2020; Student Intern Fall 2006.

Pro Bono Committee of the Family Law Section of the State Bar of Texas and Lone Star Legal Aid, Family Law Essentials Waco: Giving Back to Your Community, Drug and Alcohol Testing in Family Law, Co-presenter with Lauren Waddell – June 4, 2021

Baylor Law Women's Legal Society and LEAD Counsel, Ruth Bader Ginsburg RBG Documentary and Panel, Panelist – 2020

TYLA Texas Courts for Texas Veterans, Project Lead and Editing Director. In partnership with Baylor Law School, the Texas Access to Justice Commission, and Chief Justice Nathan Hecht
Baylor Law People's Law School, Texas Marital Property Law, Speaker – 2019 to present

Baylor Law School Ladies Who Launch, Panelist – 2018, 2019 (St. Andrews Academy of the Advocate), 2021

American Bar Association Young Lawyers Division Presentation on Access to Justice, Panelist – 2016

Baylor Law School Time Management Presentation, Moderator and Panelist – 2016

Texas Minority Attorney Program, Co-Author – "Emerging Topics in Family Law" – 2015