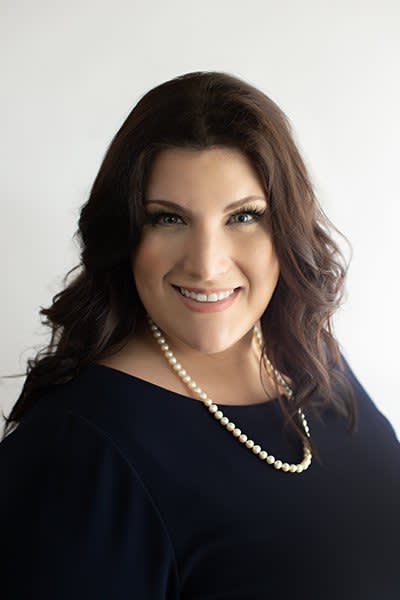 Carlie C. Gause, formerly Carlie C. Curbo, joined Pakis Giotes in May 2013. Carlie became a partner in November 2020. Carlie's primary practice areas include: Estate Planning, Probate Law, Elder Law, Special Needs Planning, and Real Estate. Carlie's preferred area of practice involves assisting families who have children with special needs. This includes Guardianships, Supplemental Needs Trust Planning, and Long-term Succession Planning. As the sister of a person on the Autism Spectrum, Carlie is very passionate about helping families navigate the transitions required in Estate Planning with a special need's child. From the beginning of her career, Carlie's brother, Lewis, has been her inspiration and greatest champion. Carlie's goal is for every child like Lewis to have security and dignity at all stages of life.
Carlie received her Bachelor of Science in Sociology from Texas State University in 2006 and her Master of Arts in Legal Studies from Texas State University in 2009. While at Texas State, Carlie was an active member and President of Phi Alpha Delta, the Pre-Law Society. She received her Juris Doctor degree from Texas Wesleyan University School of Law in 2012, where she served as Notes and Comments Citation Editor for the inaugural issue of the Texas Wesleyan Real Property Journal (2011-2012). While at Texas Wesleyan, she served as Vice President for Phi Delta Phi Honors Fraternity (2011-2012).
Prior to joining Pakis Giotes, Carlie clerked for Dunnam and Dunnam, L.L.P. and volunteered her legal services at Friends for Life, a nonprofit benefiting the elderly and disabled.
A native of Waco, Carlie remains active in the community, focusing her time on helping families who have children with special needs and the elderly. Carlie is a past Director, Vice President, President, and Chair of the Fundraising Committee of the Arc of McLennan County. Carlie is a member of the Fort Graham Chapter of the Daughters of the American Revolution. She is also a member of the Merak 104 Temple of the Daughters of the Nile, an organization that focuses on raising funds and awareness for Shriner's Hospitals.
Carlie, her husband Joseph, and their son live in Hewitt. In her free time, she enjoys spending time with her family and friends, traveling with her family, party and event planning, and scrapbooking.
Contact Carlie C. Gause by clicking here.
BAR ADMISSIONS
EDUCATION
Texas A&M University School of Law (formerly Texas Wesleyan University School of Law), Fort Worth, Texas

J.D. - 2012

Notes and Comments Citation Editor for the inaugural issue of the Texas Wesleyan Real Property Journal, 2011-2012

Texas State University, San Marcos, Texas

Texas State University, San Marcos, Texas
PROFESSIONAL ASSOCIATIONS AND MEMBERSHIPS
Waco-McLennan County Bar Association, Member, 2012 - present

State Bar of Texas, Member, 2012 – present

Member of NAELA, National Academy of Elder Law Attorneys

National Chapter

Texas Chapter
COMMUNITY INVOLVEMENT/AWARDS
Baylor University Law School's Veterans Clinic Advocate of the Year, 2020

The ARC of McLennan County

Director, 2014-2020

Vice President, 2016 - 2019

President, 2020

Fort Graham Chapter of the Daughters of the American Revolution, 2016 – present

Merak 104 Temple of the Daughters of the Nile, 2020- present